Welcome to St John Vianney Catholic Nursery School
The beginning of your child's school education. We see this as building upon the firm foundations of home life begun with yourselves.
We value a close relationship between home and nursery to allow your child's education to flourish. Communication is very important to us and we hope by forging these relationships, we can provide the best support possible for you and your child at the start of this exciting new chapter.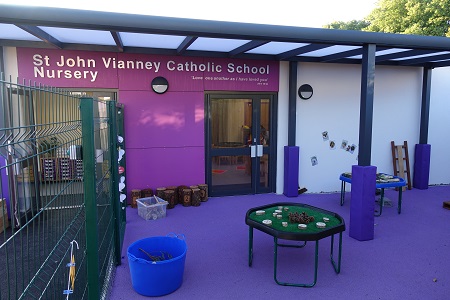 Our friendly staff and exciting environment aim to quickly settle the children and provide an atmosphere where children are excited to learn and explore by posing questions and investigating the answers. We endeavour to encourage each child's interest in learning to help them develop a firm foundation of concepts and skills that they can build upon to develop their full potential and prepare them for life beyond nursery.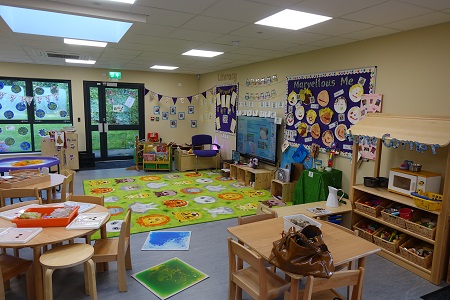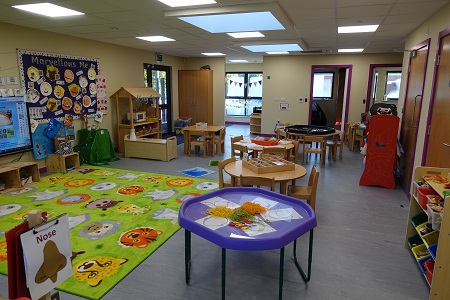 This prospectus will support new parents by giving information which will help you understand the organisation of the Nursery and school, enabling you feel confident that St John Vianney School and Nursery will provide your child exciting learning opportunities and many Happy memories.
Applying for a place at St John Vianney Nursery
We hope you find this information useful and informative. Should you require further information or to send your child to our Nursery, please contact the school admin@sjv.coventry.sch.uk or 02476464088
Our Aims
The aim of our nursery and school is to support our children to become faith-filled, confident, motivated, kind and life long learners. We want our children to reach their full potential through learning about the world we live in keeping Christ at the centre of all we do. We have one school rule "To Love one another as I have Loved You".
St John Vianney Nursery aims to give every pupil opportunity to:
To ensure that each child feels happy, safe, valued and loved.
To provide an exciting, fun and enjoyable educational experience for each child and promote a life-long love of learning
To inspire our pupils to aim high, reach for the stars, be the best they can be and make the most of every opportunity that is given to them.
To ensure that each child meets their God given potential and is nurtured academically, spiritually, socially and emotionally.
To encourage each member of the school community to live their life in accordance with gospel values and to make a positive contribution to British society.
To make prayer, worship and liturgy relevant and meaningful for each individual and to provide a learning environment that will enhance the development of faith of everyone in the school community.
To work in partnership with parents, the parish, the community and other local schools, in order to provide a wide range of supportive interactions for our pupils.
To have lots of fun, make magical memories and share smiles every day
How do we achieve this?
We firmly believe that children learn best when they are engaged and when learning is made relevant and purposeful for them. Play is essential for children's development and enables children to make links with experiences both indoors and outdoors.
Play enables children to explore, investigate and make sense of the world around them. It also allows thinking to be challenged and the ability to practice and rehearse skills. Children are naturally inquisitive, and we will build on this curiosity in a positive manner.
The EYFS framework has three prime areas:
Communication and Language
Physical Development
Personal, Social and Emotional development
There are four specific areas, through which the prime areas are strengthened and applied. The specific areas are:
Literacy
Mathematics
Understanding the World
Expressive Arts and Design
Characteristics of Effective Learning
The characteristics of effective learning run through and underpin all seven areas of learning and development, representing processes rather than outcomes. The Characteristics of effective learning are:
Playing and exploring – engagement
Active learning- motivation
Creating and thinking critically- thinking
Preparing for Nursery
Once your child is offered a place at nursery there will be opportunities for a variety of visits. You will initially be invited to attend a meeting where the nursery teacher will give you all the information you need to prepare you and your child for their new experiences. At this point, the teacher will also explain how the nursery day is set out to promote learning experiences both indoors and outdoors. At this meeting you will be given a book and asked to make an About Me book with your child over the weeks prior to start of their nursery experience. This book is really important and supports your child in their transition from home to nursery.
Transition
Following the initial Nursery welcome meeting, you will receive a letter detailing your child's stay and play opportunities. All children will gradually build up the length of their time in Nursery over a 3 week period. This supports a smoothed transition from home to nursery and allows the children and nursery team develop positive relationships. It is important that the About Me book is left in Nursery to support your child settling in and the nursery team in knowing your child's likes and dislikes, talents and needs.