Physical Education at St John Vianney Catholic Primary School
We are proud of the PE Curriculum and the sporting opportunities that we have on offer at St John Vianney Catholic Primary School. We believe that sport not only contributes to the physical development of pupils but also makes a significant contribution to pupils' well-being and enjoyment of school. It enhances a range of skills transferable to the classroom such as the ability to listen, follow instructions, maths skills, literacy skills, fine and gross motor which will ultimately improve handwriting.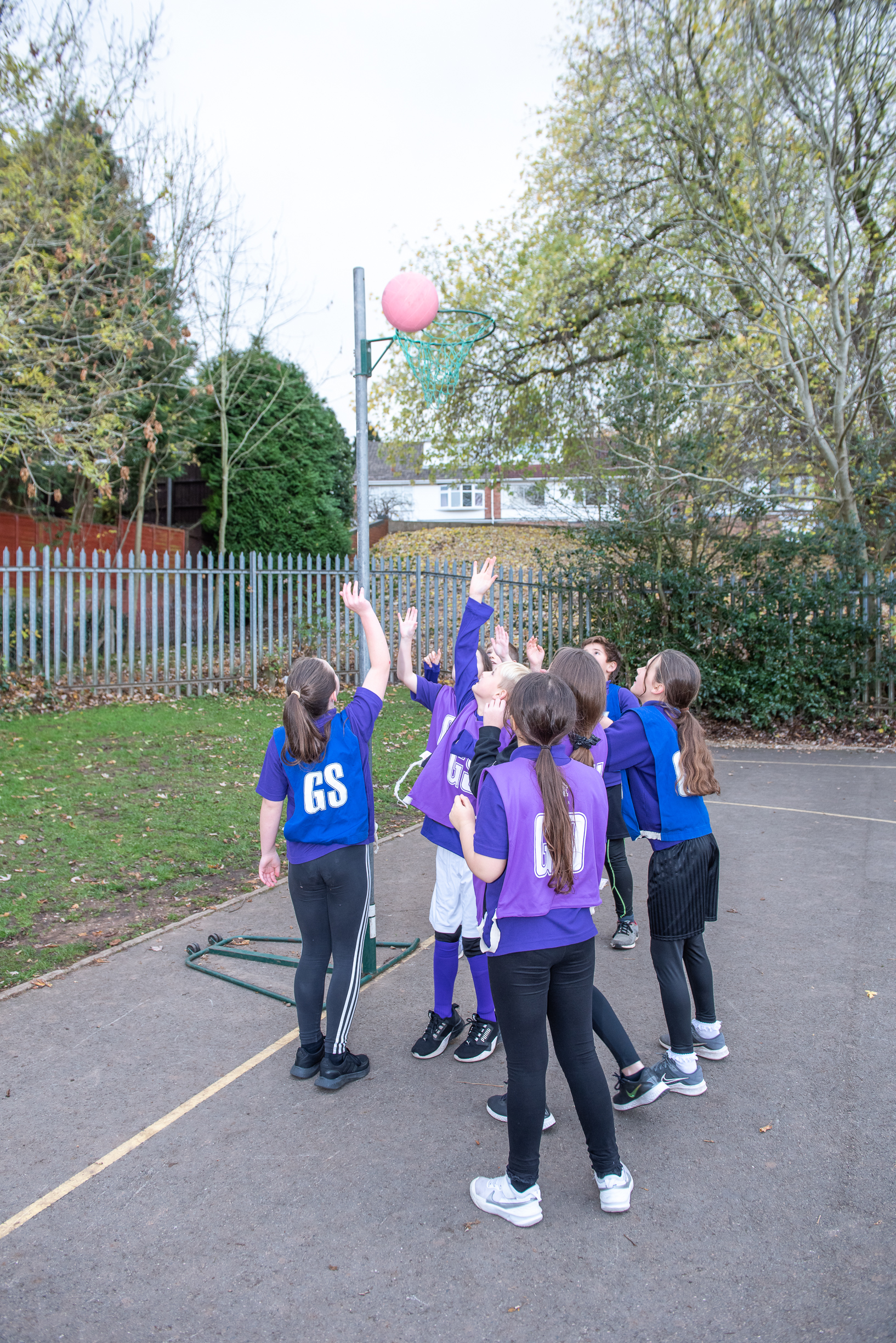 PE CURRICULUM
We have used the Primary School Sport Premium to enhance our provision by focusing on the use of specialist coaches to improving the quality and breadth of PE and sporting provision for all pupils in addition to providing staff development.
From September 2013 we have become a partner school with 'Coventry Sports Foundation' where highly qualified coaches will work with Years R to 6 every week developing skills in football, netball, hockey, rugby, rounders, cricket and athletics. We are very fortunate that Mr Carroll is our sports co-ordinator working with every class to develop continuity and progression of skills.
Teachers will work alongside the team to plan, assess pupil's progress, and develop their own skills in teaching these sports.
Yr 3 pupils have swimming lessons at a local pool with suitably qualified staff. This is tailored to their swimming ability and they have the opportunity to gain recognised swimming awards.
Through residential visits in Year5 (Alton Castle) and Year6 (Dol-Y-Moch) children are able to partake in outdoor and adventurous activity challenges such as climbing, abseiling and orienteering.
Extra Curricular and Competitive Sport
Over the course of the Academic Year we offer a range of sports clubs after school for various year groups. For Example:
Multi skills Key Stage1
Tennis Yr3/4 and Yr5/6
Netball Yr5/6
Cross country Yr5/6 Yr3/4
Football Yr3/4/5/6
Gaelic Football Yr3/4/5/6
Athletics Yr3/4/5/6
Swimming Yr3/4/5/6
Cricket
We also encourage inter-house competitions in sport starting with our annual sponsored wolf run.
We enter teams for the Catholic League in Football and Netball. We also enter the Harry Shaw Cup and Walker's Cup annually in Football.
Through our School's partnership with Bishop Ullathorne and feeder schools we participate in swimming galas, football, netball, athletics, and rowing competitions. We also enter County athletic competitions and Cross country events.
Please read the information below which gives details of our PE and Sport Premium Grant and how we allocate the funding.
Sports Premium Impact 2019-20
The pandemic caused by COVID-19 had a significant affect upon our school PE curriculum although during lockdown we continued to enter the virtual games provided by SGO and continued to gain the Gold award for sporting participation.
Meeting national curriculum requirements for swimming and water safety

Please complete all of the below:

What percentage of your current Year 6 cohort swim competently, confidently and proficiently over a distance of at least 25 metres?

N.B. Even though your children may swim in another year please report on their attainment on leaving

primary school.

87%

What percentage of your current Year 6 cohort use a range of strokes effectively [for example, front crawl, backstroke and breaststroke?

73%

What percentage of your current Year 6 cohort perform safe self-rescue in different water-based situations?

83%
The continued improvement in swimming has been due to the extra lessons for Year 3 and 4 and support for those children not achieving the standard.
| | | |
| --- | --- | --- |
| Children attending extra-curricular sports clubs. | Children representing school in sporting activities. | Children at age related fitness levels. |
| Year 1 – 70% | Year 1 – 38% | |
| Year 2 - 83% | Year 2 – 43% | |
| Year 3 – 77% | Year 3 – 20% | Year 3 – 77% |
| Year 4 – 73% | Year 4 – 47% | Year 4 – 93% |
| Year 5 – 93% | Year 5 – 83% | Year 5 – 76% |
| Year 6 – 73% | Year 6 – 53% | Year 6 – 80% |
What we did

Why we did it

How much it cost

Purchased Rowing machine

Used for cross county competitions as well as school to school competitions

£605

Swimming booster lessons

Booster lessons for Year3 and 4

£810

Extra swimming for Yr3 and Yr6

£256

Sports at EXCEL

An opportunity to learn new sports not available in school

£605

Competitions

Swimming gala

Magnificent 7

Quad Kids

£57.47

Your Track

An app to log running/ steps to improve general fitness and mental well being

£420

Course fees

PE co-ordinator

NQT PE course

Forest schools training

£1125

Up skilling staff

PE lessons to train and enhance the skills of the staff

£3640

PE Dance

Opportunity for pupils to learn dance skills in different genres

£1000

Lunch club

Extra staff trained in PE to develop games skills at lunch time and help pupils to take turns and support each other

£4320

School Games

Inter sports and inter schools competitions

£400

PE curriculum

Coaches provided to enhance afternoon KS2 provision of sport across to include a variety of sports each term

£1690

Speed bounce competition

Sports hall athletics

£115
Sports Premium Impact 2021-22
Swimming Data
93% meeting National Curriculum requirement for swimming and water safety
What percentage of your current Year 6 cohort swim competently, confidently and proficiently over a distance of at least 25 metres? 93%
What percentage of your current Year 6 cohort use a range of strokes effectively [for example, front crawl, backstroke and breaststroke]? 100%
What percentage of your current Year 6 cohort perform safe self-rescue in different water-based situations? 100%
Schools can choose to use the Primary PE and sport premium to provide additional provision for swimming but this must be for activity over and above the national
1. Working with specialist PE teachers to coach the staff and pupils to improve sports provision even further
Teachers worked alongside PE coaches to develop their skills and knowledge of a range of games and improving their understanding and pedagogy knowledge and in turn developing pupil's participation and enjoyment.
2. Provide extra swimming lessons to KS2 pupils to enhance skills and develop water safety and to provide the opportunity to try other sports not available in school trampolining, badminton trampolining
Due to COVID restrictions gradually being lifted it was not possible to use the same swimming baths as previously and because we did not mix groups it wasn't possible to offer a range of new sports at the centre. We took Year 4 for extra lessons in swimming at a different swimming Baths weekly to improve and develop their skills. Year 3 were taken for a term as part of our own school offer and starting from Year 6 downwards individual pupils totalling 15 at a time who were unable to achieve their 25 m were taken for another term for extra lessons. Pupils strength and stamina improved with an improvement in their core strength.
3. Purchase orienteering kit to use around the school grounds
Orienteering kit has been purchased. Year 6 pupils developed key skills whilst in Dol Y Moch further work is required to set up station points around school. Pupils in Year 6 have learnt mapping skills in the environment which has impacted their geography skills.
4. Train a member of staff in Forest schools developing health and well being particularly after the pandemic.
We now have Mr Carroll as the lead Forest school teacher, Mrs Halls, Mrs Ball, and waiting for the sign off on Miss Twomey, Ms Lampett and Mrs Ryan. All teachers lead Forest school sessions usually in the afternoon . Year R , 1, 2, 3 and 4 have all had weekly Forest school sessions. Year 4 found this particularly helpful for improving their wellbeing.
5. Train a member of staff in First aid to support Forest School training
All staff leading Forest School sessions have completed 2 day First Aid Training
6. Subscribe to Your Track App- improve general fitness of all pupils
Your Track App was purchased and pupils regularly walked the mile or ran the mile. Mr Carroll also ran a voluntary running club 2 mornings a week. As we came out of COVID restrictions we slowly built up the groups for example Year 3 and 4 worked together and Year 5 and 6 worked together. Pupils fitness, stamina and resilience gradually improved.
7. New Goal Posts
These helped to improve competitive sport particularly when other schools come to play at our school. It has improved the children's want to play Football and develop team skills
8. To train at least 2 members of staff in Boxercise which would provide another skill
4 members of staff were trained to teacher Boxercise and used it to support their work across the school for example the training helped with core strength and skills in football, dance and netball. Boxercise equipment was purchased and will be implemented fully next year with Key Stage 2 pupils.
9. To employ a fitness, mindfulness and therapy coach to support targeted pupils to access the curriculum
Sports coach was used to support pupils to stay on track and improve their concentration in class. Also used to support and improve mental health and wellbeing in class. Yoga teacher came into school to work in small groups to develop confidence and an ability to improve wellbeing and communication when things don't seem right.
10. To increase physical activity at lunch time by using sports coaches to develop team games
Sports coaches are used to develop team games and co-operative work at play time making them friendly and enjoyable whilst improving play. Resources have been purchased to develop and improve play.
11. To continue training for the PE co-ordinator in Real Gym and all current updates who will then disseminate to the rest of the staff.
Eamonn has been trained in real Gym and materials have been purchased supporting all pupils across the school plus all staff having a basis to improve their skills.
12. To purchase a rowing machine which is used for competitive sports across schools as well as internally within school.
Rowing machine has been purchased and pupils use it to improve strength and stamina. They show enjoyment of this one to one sport.
13. Facilities have been hired in preparation for the swimming gala
Pupils practice swimming in preparation for the Catholic Swimming Gala we come first in the West and second overall
14. Facilities have been hired in preparation for the athletics competition
Pupils have an opportunity to try out and practise at a bigger venue.