Jean Marie Baptiste Vianney was born at midnight on May 8th, 1786, at Dardilly – a small village near Lyons in France. Jean Vianney's family were poor farmers, and although Jean wanted to become a priest even as a little boy, his family were too poor to pay for him to go to school. Jean begged his parents to let him become a priest and finally in 1806 at the age of twenty, he began to learn to read and write.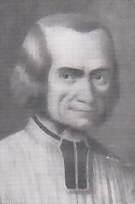 It was seven years later, in 1813, when he finally began to train as a priest. Jean found the work very hard and failed all the exams at the end of the first year. The Directors of the Seminary wanted to send him home, but he begged to be allowed to stay. Jean Vianney was finally ordained a priest on August 15th, 1815. The Archbishop of the diocese felt that Jean Vianney was not clever or talented enough to be sent to a big parish, so instead he sent him to a small, poor little village called Ars.
Jean Vianney was shocked by the terrible poverty of the people of Ars, and as their parish priest he felt he should be even poorer than they were. Jean Vianney gave away many things from his little home, even the bed, and he slept on the floor rolled in a thin blanket. He drank water and ate mostly potatoes and a hard cake made from a mixture of flour and water. He boiled potatoes at the beginning of the week and hung them up in his kitchen and took down two or three each day for his meal but by the end of the week, the remaining potatoes were mouldy! At one time he even tried eating grass – but found this impossible and he would faint from hunger.
When Jean Vianney first arrived in Ars only a few women and children came to the Church, but Jean Vianney visited every family in his little parish. He spent long hours talking and listening to people about their worries and concerns. Gradually, more and more people came to the Church for Mass. Jean Vianney's fame as a caring and devoted parish priest began to spread. People particularly liked to come to Confession to him because he really seemed to understand their fears and concerns. Jean Vianney would sit for hour after hour in his Confessional box in his little Church of Ars listening, advising and absolving people from their sins. He was always kind in his simple advice to everyone who came to him.
All through his life as a priest, Jean Vianney felt he was a failure and longed for a time when he could leave his parish and live alone with his thoughts and prayers. He tried many times to leave Ars but always felt drawn back to the village and its people. In the hot summer of 1859 Jean Vianney became very ill. He went to his beloved little Church for the last time on July 29th, 1859. He died quietly with a bishop and twenty priests with him on August 4th, 1859.
On May 31st, 1925, in front of a huge crowd, thirty-two Cardinals and two hundred Bishops, Pope Pius XI declared the poor, humble priest of Ars: "Jean Marie Baptiste Vianney, to be a Saint and inscribe him in the catalogue of Saints".